Bakers Duuzen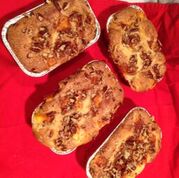 Do you enjoy baking or cooking and are willing to share your delights?  Or, have you been waiting for the opportunity to experiment and learn to bake?    If so, please join Baker's Duuzen.  Everyone in the group shares  his/her Talent, Time, and Treasure to raise money for our wonderful church.  Bake Sales are held on the 3rd Sunday of every month but no one is obligated to bake every month – 5 times per year would suffice.
In the past we have prepared all types of cakes, desserts, coffee cakes, cupcakes, cookies, brownies, shortbreads, chex mix, rolls, pies, muffins, cobblers, scones,  biscotti, soups,  breads and, yes, even dog treats.  All bakers bring their goods carefully wrapped and labeled and ready to sell.  At the bake sales we accept cash, checks, and credit cards.
For more information, please follow this link to the members area.