Past Service Projects
Welcoming Congregation | Supporting Our Community | Panera Bread Collection | Equal Rights Amendment Advocacy | Gun Violence License Plate
Welcoming Congregation
In 2006, our church conducted a process that created agreement by our members to welcome and support LGBTQ people. After a year-long series of workshops on the difficulties facing persons of the LGBTQ community and about our collective responsibilities to this community, we affirmed the Welcoming Congregation Resolution and became a UUA designated Welcoming Congregation.
Supporting Our Community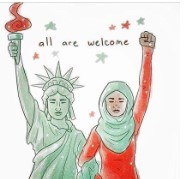 On Sept 11, 2001 forty UUCC members & friends stood with Richmond Muslims, creating a protective shield in front of the Richmond Islamic Society Mosque when they received threatening phone calls. We then sponsored a four-part series exploring war and peace in the Middle East and held a candlelight vigil on the eve of our government's invasion of Iraq.
We shared our church space with the Muslim Church, SHARIA and Imam Mohammad Owusu. Muslims met weekly in our building for their prayer services for a three-year period.
After Hurricane Katrina, several UUCC members traveled to Mississippi and took part in relief work after Hurricane Katrina's devastation.
Panera Bread Collection; Food for Shelters – For a period of time, SAM members would pick up the unsold bread several times a week from the Panera's on Broad Street and deliver to local shelters. This averaged 40 pounds a night, with a record of 76 pounds delivered to local shelters in need.
Equal Rights Amendment Advocacy – SAM provided supplemental support for passage of the ERA in Virginia by publicizing events and participating in card-writing events. Virginia became the 28th state to adopt the amendment and our members are still working on its adoption by Congress.
Gun Violence License Plate – We assisted the state organization in securing enough signatures pledging to buy such a license plate if made available by the state. We were singled out for praise by advocates, as having helped the campaign succeed in its goal.